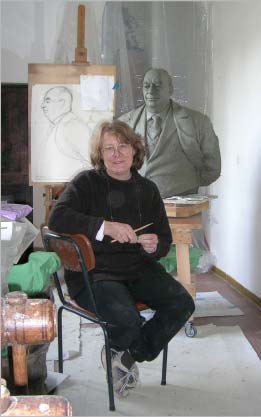 ANNE SHINGLETON
was born in 1953 Salisbury. Most of her
childhood was spent on a Dorset farm
surrounded by animals. After having
earned a degree in zoology at Swansea
University, she moved to Florence in
1980 to study classical art techniques
under the renowned teacher Nerina Simi
(1890-1987). Since 1982 she has been
living in Tuscany between Florence and
Siena. Starting with her first one-woman
exhibition in Kings Street in London in
1983, her oils, drawings, pastels,
etchings and, more recently, bronze
sculptures (see her book, Twenty-Four
Bronzes) have found large and loyal
followings in Britain, France, Germany,
Italy, the Netherlands and North
America.
In the past twelve years her bronzes,
cast in Italy by two of Europe's best
foundries, have had much acclaim in
Italian and German critical and collecting
circles. In 1997 she was elected a
member of the Royal British Society of
Sculptors. Recent corporate commissions
for classical life-size portraits in bronze
have attracted wide attention and praise,
but she also continues to paint,
perfecting her exceptional skills in
rendering animals and light, often in a
very Tuscan setting.

MOST RECENT EXHIBITIONS
June 2008 · Participated in "A TWENTY-YEAR CELEBRATION
EXHIBITION", in which the Wildlife Art Gallery, Lavenham, Suffolk,
showed a few of my first larger swan paintings, amongst others.
December 2007 · Participated in the Christmas exhibition
held in two locations by The Jane Neville Gallery at Hawksworth Church,
Hawksworth, Nottinghamshire, and at higher
Holcombe Farm, Uplyme, Dorset.
ONE-WOMAN EXHIBITIONS OF PAINTINGS,
PASTELS, DRAWINGS AND ETCHINGS SINCE 1983
2004 · The Jane Neville Gallery, Hawksworth, Notts.
2003 · Galleria Antonio Parronchi, Florence
2002 · De Twee Pauwen Gallery, The Hague
2001 · The Jane Neville Gallery, Aslockton, Notts.
1995 · Galerie Etienne de Causans, Paris
1993 · L'Accademia Italiana, London
1992 · The Jane Neville Gallery, Aslockton
1990 · The Jane Neville Gallery, London
1989 · The Jane Neville Gallery, Aslockton
1987 · The Jane Neville Gallery, London
1987 · The Jane Neville Gallery, Aslockton
1986 · The Look Gallery, Helmseley, Yorks.
1986 · The J.R.Leigh Gallery, Tuscaloosa, Alabama, USA
1985 · L'Età dell'Acquario, Florence
1983 · The King Street Gallery, London
1975 to 1982 · Various in Britain

ONE-WOMAN EXHIBITIONS OF BRONZE SCULPTURES
2003 · Galleria Antonio Parronchi, Florence
2000 · De Twee Pauwen Gallery, The Hague
1999 · Contemporary Art Centre, Schalkwijk, Holland
1999 · The Dorset County Museum, Dorchester
1998 · Wilton House, Wilton, Wiltshire
1998 · The Edwin Young Trust Galleries, Salisbury

GROUP EXHIBITIONS OF PAINTINGS AND DRAWINGS, 1984-2006
The Grand Central Galleries, New York
The Royal Society of Wildlife Artists, London
The Royal Society of Portrait Painters, London
The Pastel Society, London
The Jane Neville Gallery, Aslockton, Notts.
The Jane Neville Gallery, Hawkesworth, Notts. and Snitterfield, Warwickshire.
The Mall Galleries, London
The Wildlife Gallery, Lavenham, Suffolk
The Peter Hedley Gallery, Wareham, Dorset
Kunstzaal Van Heijningen, The Hague, Holland
Museum Møhlmann, Venhuizen, Holland
Müllertentoonstellingen, The Hague, Holland
Galerie De Twee Pauwen, The Hague, Holland
L'Età dell'Acquario, Florence, Italy
La Biennale di Scultura, Padua, Italy
'Visions from Italy', Canary Wharf Tower, London

GROUP EXHIBITIONS OF SCULPTURE, 1995-2006
The Blake Gallery, York, GB
Kunstzaal Van Heijningen, The Hague, Holland
The Contemporary Art Centre, Schalkwijk, Holland
De Twee Pauwen Gallery, The Hague, Holland
The Garden Gallery, Stockbridge, Hants.
The Wildlife Gallery, Lavenham, Suffolk
The Peter Hedley Gallery, Wareham, Dorset
The Blake Gallery, York
C'Arte d'Identità, Pietrasanta, Italy