BRUCE PEARSON – Painter and printmaker

Elected a member of the Society of Wildlife Artists in 1976, and President in 1994, I have painted professionally for almost 30 years. In that time I have been lucky enough to travel widely in search of subjects, from the Arctic and Antarctica to Africa, much of Europe; and more recently, the Caribbean, North America and South America. However, much of my time is spent in East Anglia - either working out in the field, or in my Cambridgeshire studio.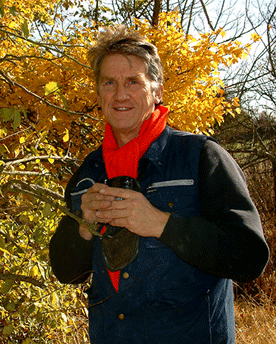 .For the past 10 years my work has largely involved private commissions from individuals, museums and institutions; and by invitation from the Artists for Nature Foundation (ANF) I have participated in international art events and exhibitions in Alaska, France, Holland, Spain, Poland, Ecuador and Peru. As a visiting lecturer at the Royal College of Art and by undertaking workshops, tutoring and presenting lectures to the wider public I have actively encouraged students, keen amateur painters as well as professional artists to see the natural world in a different light and express that enthusiasm in new ways.

Some of my work has been used to illustrate various books, journals and magazines. One project writing and illustrating An Artist on Migration - a personal interpretation of the annual journeys make flowing with the seasons between Europe and Africa. A BBC film was made about part of the journey I made in West Africa. Following that I was involved with other film projects, perhaps most notably the six-part Channel 4 Birdscape TV series ....which featured a range of British landscapes and the lives of some of the ....birds, and some of the people associated with them.

I have exhibited work in a number of overseas countries and widely in galleries throughout the UK. Group shows have included Wildlife and the Artist, (Wildlife Art Gallery 2002); Extremadura (Artists for Nature Foundation, 1996 and touring); Alaska's Copper River (Artists for Nature Foundation 1998, and touring); Society of Wildlife Artists, London (annually from 1975); Parc Les Écrins, France (1996 and 1998); Birds in Art (Leigh Yawkey Woodson Art Museum, USA, 1992 and 1994). Solo exhibitions have included The Peter Hedley Gallery, Dorset (1998 and 2001); The Jane Neville Gallery, Aslockton (1989); The Natural History Museum, London (1989); and The Wildlife Art Gallery (1995 and 1997).

As well as The Wildlife Art Gallery, Lavenham, Suffolk, my work can usually be seen at The Tryon and Swann Gallery, Bury Street, London; The Hoste Gallery, Burnham Market, Norfolk: and The Brian Sinfield Gallery, Burford, Oxfordshire.